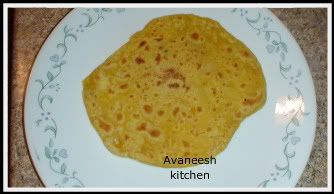 Ingredients:
For the filling:
Channa dhal- 1cups
Jaggery or sugar - 1cups
cardamom powder - 1/2 tsp
For coating:
All purpose flour- 2 cups
Turmeric powder a pinch
Salt 1/4 teaspoon
oil - 2 tsp
water - as needed
Method:
wash chana dhal and soak it in 2 cup of water for 1 hour.
Then cook it in the pressure cooker.
The dhal should be whole but mashable.
After the dhal is cooked , remove exess water from the dhal take only dhal.
Heat a pan and add the dhal paste and sugar or jaggery and cook further till they blend and form a lump such that you can prepare small balls for stuffing.
Keep stirring on low fire so that it doesnt burn.
Then add cardamom powder,Prepare small lemon sized balls.
Mix all purpose flour, salt and turmeric powder and make a soft dough using water little by little.
Allow the dought rest for 1/2 an hour.
The dought should be very soft and sticky.
Divide the dough into equal portions.
Clean and flour a rolling surface. Take one ball of dough and flatten it with your fingers.
Now keep the lemon size chana dhal ball in the middle of the dough.
Fold the edges of the circle over the paste and pinch together to seal.
Flatten this new ball gently with your fingers and use a rolling pin and gentllye.
Heat pan roast both sides till brown spots appear.
Serve it hot with butter or ghee.