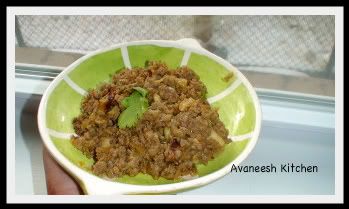 Ingredients
kheema mutton-1 cup
Chopped garlic -7 nos
chopped ginger - 2 piece
Turmeric powder-3/4spoon
Chilli powder-2 spoon

green chilli - 3 no
Fennal seeds - 1 tsp
Chopped tomato- 2
Small onion - 5 n0
Coriander leaves- 2-3 spoons
Salt-to taste
Cloves – 4
Cinnamon – 1
Garam masala-3/4 spoon
Method
In a hot pan add some oil.
Add fennal seeds, cloves, cinnamon , green chilli's.
Add ginger, garlic.
Then add small onion,tomato fry for some time.

Then add turmeric and chillipowder, garam masala & salt.
Then add kheema mutton.
Cook it for around 15-18 minutes.
Garnished with coriander leaves while serving.