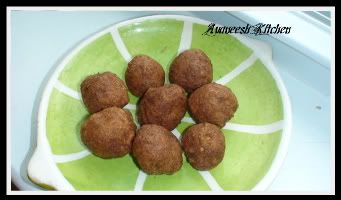 Ingredients:
Grounded mutton- 1/2 lbs (minced)
Fennel seed- 1 tsp
Grated coconut - 3 tsp
onion - 1 big
Garlic - 3 to 4 nos
Ginger - a inch
Cardamom -1
Clove - 1
Cinnamon - 1 small stick
Curry leaf - as needed
Egg-1
Green chilli- 2 nos
Red chilli - 3 nos
Pottukadalai(split peas dal)-1 tsp
Cashewnut - 2 to 5 nos
Method:
In a pan add 1 tsp of oil, wen the oil is hot add cinnamon, cardamom,clove, ginger, garlic , green chill, red chill.
Then one by one all the ingredients expcept mutton.
Fry it till the coconut turns light brown.

Then grind all the fryed ingredints.

Then add grounded mutton.
Dont pour water, sprinkle some water.
Now add the egg with the grinded ingredients.

Make it a small balls.
And deep fry it in oil.
Serve it hot.