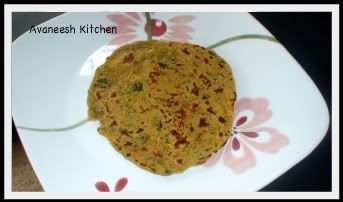 Ingredients:
Method :
Mix Wheat flour, fresh Vendhya keerai(chopped), Chili powder, Turmeric powder, ginger garlic paste, garam masala, Salt in a bowl.

Add water and mix it well as soft dough.

Place the dough in a vessel and cover it with a lid for 1 to 2 hours.
After that make small balls of the dough and roll it into flat and round shaped chapathi sheets.

Heat a dosa pan. Once the pan is hot, place the chapathi on it and turn after few seconds.
Apply a tspn of oil over the chapathi
Turn chapathi for every few seconds till both sides are cooked.
Serve it hot.